IP Switches for Distributed Access Architectures
Ethernet switches for Remote PHY and Remote OLT CIN
With the evolution to Digital Fiber within a Distributed Access Architecture, an optical IP switching infrastructure is required to connect the core video, data and management systems with remote node devices.
In a Remote PHY solution a Converged Interconnect Network (CIN) connects R-PHY Devices (RPDs) to the CCAP Core containing the MAC processing, such as the ARRIS E6000 or vCore. It also interconnects the CCAP Core to the Video Core and management systems.
For Remote OLTs an ICX based CIN provides the fan-out connectivity between multiple node-based OLTs and the operator's core network.
The ICX® family of switches provide robust, high performance optical ethernet switching, with the flexibility to evolve from simple single-layer networks suitable for small/medium sized deployments to highly scalable leaf-spine architectures. CIN design requires a non-blocking and scalable architecture with predictable and low latency. Modern data-center designs using spine and leaf architecture are well-suited to meet these requirements.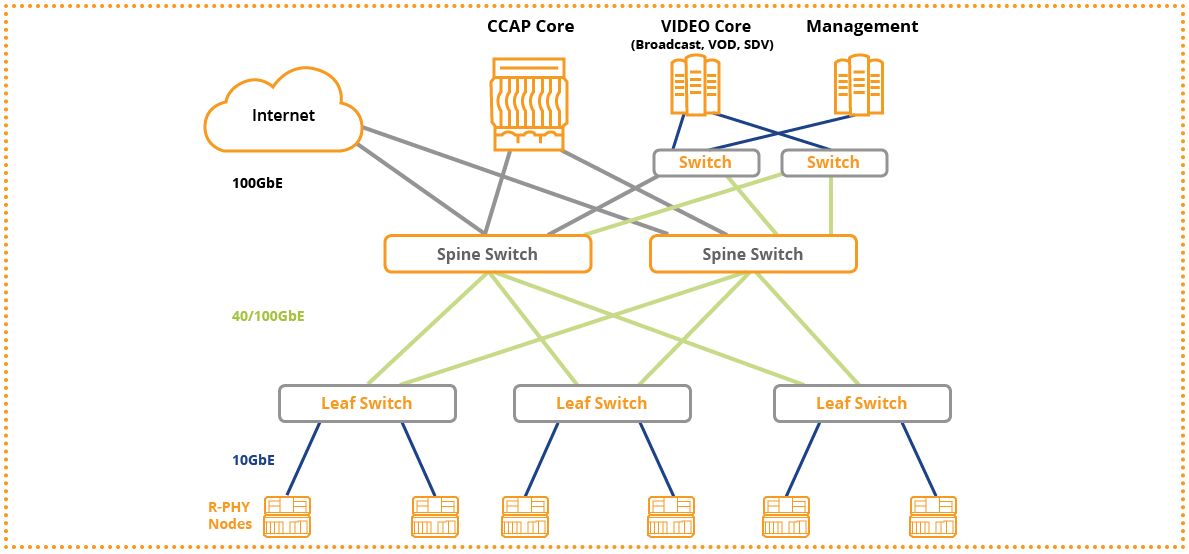 Example Remote-PHY Leaf-Spine Architecture
Benefits of a Leaf-Spine switching fabric include:
Highly scalable
Simple capacity upgrades: RPD port upgrade - add Leaves, Backbone upgrade - add Spines
All devices are the same number of hops away = predictable and consistent latency
A single layer network, while having scaling limitations, has the benefits of:
Simple architecture
Low rack space
Potentially lower cost
Switches can be reused as Leaves when migrating to a 2-Tier architecture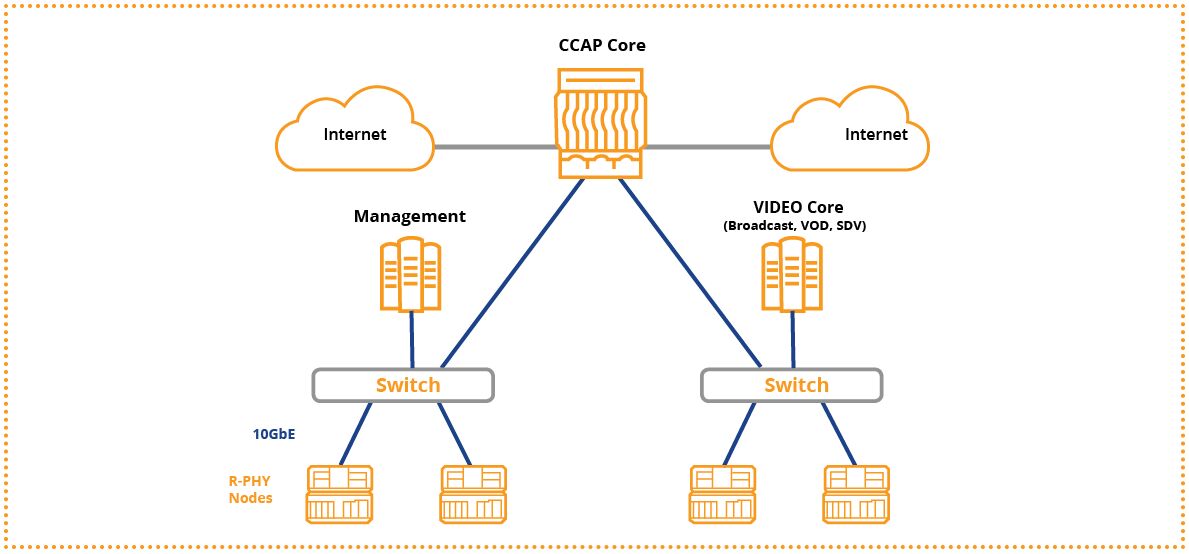 Example Remote-PHY single-layer Architecture
Features
Standards based
Low-latency non-blocking architecture
Rich set of Layer 2 and Layer 3 protocols
SDN capable with support for OpenFlow®
Dual hot swappable power supplies and fans
Wide range of optics supported
The ICX7850, ICX7750 and ICX7650 family of switches is ideal for CIN spine-leaf deployments. They support a combination of 10GE, 40GE and 100GE ports and a robust set of L2/L3 features.
The ICX family offers Industry-leading Total Cost of Ownership (TCO) due to:
Simplified network set-up & management
Low power consumption
Lifetime warranty, including power supplies & fans
Details
Note: specifications are subject to change without notice.
Model
ICX7650-48F
ICX7750-48F
ICX7750-32Q
ICX7850-48FS

Switching Capacity

1.128 Tbps
2.56 Tbps
6.4 Tbps

10 GbE SFP+ ports (max)

28

96

1

128

1

40 GbE QSFP+ ports (max)

4
32
32

100 GbE QSFP28 ports (max)

2
-
32

MACsec

-

IEEE 1588v2

-
-
2

Documents

Data Sheet
Data Sheet
Data Sheet
1

with QSFP+ splitter cables


2

future release

Using ICX as part of a fully integrated, tested and supported DAA solution from ARRIS, reduces time to market and risk. Ongoing support is simplified. Service Providers can be confident that their network can scale as business demands grow.
Products
Services for Network Transformation
Your trusted partner for access network transformation, deployments, infrastructure management and engineering projects
Solutions
Distributed Access Architecture (DAA)
Video and data capabilities for network transformation
Access Technologies Resource Center
Find manuals, quick guides, data sheets, videos and much more!