Powered Fiber Cable Systems
From the core to the edge, your network is adding connected devices and new smart-building services all the time. The opportunities and efficiencies they offer speak for themselves—but, as they spread to locations both indoors and out, you're probably feeling the crunch caused by not having enough network access where it's needed.
CommScope solves these challenges with a complete range of powered fiber solutions designed for just the kind of high-demand powered devices that power smart networks in healthcare, hospitality, education, transportation and government environments, among others.
One cable run. Infinite possibilities.
The powered fiber cabling solution combines high-performance, low-latency fiber-optic data connectivity with a copper low-voltage dc power connection. This enables the connection of any number of powered remote devices without the need for new conduit, bulky extra cable runs or expensive electricians. With the powered fiber cable solution, your network gains access to a vast and growing ecosystem of applications, including:
Optical LAN
Emergency Phones
HD security cameras
Digital signage
Wi-Fi access points
Small cells
Or virtually any low-voltage dc powered device
Application overview
Complete power and data solution platform for IP devices
Low-voltage power provided by centralized source/backup UPS
One power supply can drive up to 32 devices simultaneously
Extends PoE distance up to three kilometers (at 15 watts)
Low-cost installation and setup
Supports passive optical network (PON) applications
Ideally suited to campus environments, airports, parking areas, stadiums, small cell base stations, fiber to the room and more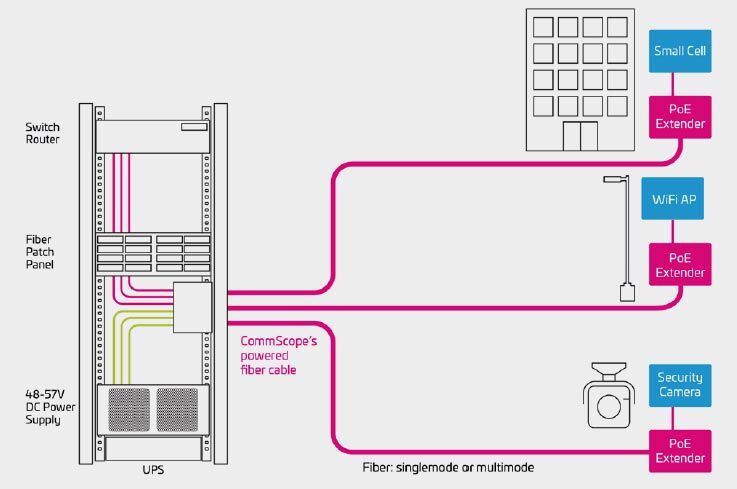 The CommScope powered fiber cable system is a hybrid fiber/copper system that installs like a "long extension cord" and is composed of the following system elements:
PoE extender
dc/dc conversion electronics
Simplifies electrical engineering calculations by converting the received voltage to the correct dc voltage level for PoE output (48 VDC)
SELV and NEC Class 2 compliant
IP68 sealing—Enclosures are designed for outdoor installations with protection from moisture and the environment
Houses electronics, power termination, fiber management, and cable termination
Unobtrusive installation
60W 2-port variant enables 2 PoE or PoE+ devices to be connected via one hybrid cable
Surface Mount Box
Supports structured cabling labeling and administration
Protects your powered fiber cable and connections
Provides a clean end point to terminate new indoor plenum powered fiber cables
Supports multigig Wi-Fi access points
Supports new and existing powered fiber cables
Power and fiber distribution elements
Power Express power distribution chassis
1 rack unit height, 19-in or 26-in standard rack mount
Up to four (4) distribution modules per chassis, each with eight (8) dc output channels
Each output capable of providing 100-watt dc power Slimline Power System rectifier chassis
1 rack unit height, 19-in or 26-in standard rack mount
Up to three (3) rectifier modules per chassis, each providing up to 1600-watt dc power
Products
Application Guide
Powered fiber cable system technical overview
Calculator
Powered Fiber Calculator